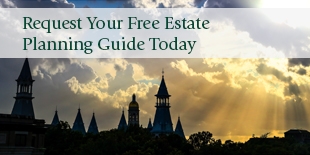 We would like to send you a FREE Guide to Wills and Trusts.

Your free guide will include a planning workbook, "Planning Your Legacy" that you can use to record your family information and your estate distribution plans. This workbook guides you through the process of considering the questions and issues that are important when building a comprehensive future plan.

This helpful information may enable you to avoid an accidental disinheritance and provide for yourself, your family and your favorite causes.

Request your free estate planning guide today by filling out the information below or contacting the Office of Gift Planning for more information. We would be happy to answer any questions you may have.
Enter Your Information