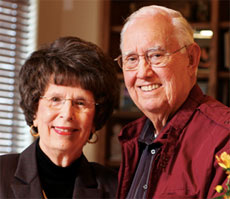 Fall 2009 - Being a teacher is more than merely teaching-it's about a remarkable spirit-a teacher's heart. Janice (BA '58, MS '61, EdD '74) and Harold (BA '58, MSEd '61, EdD '70) Havard may be retired, but that doesn't stop them from investing in others. Spending their days teaching English as a Second Language and serving with Meals on Wheels, a true teacher's heart emanates from their lives.
To this beautiful couple, education is more than eight hours in a classroom. It is an opportunity to embody Christ and help redirect the course of students' lives.
In honor of their 50th wedding anniversary, they chose to ensure the hearts of future teachers by establishing an
endowed scholarship fund
to benefit the School of Education.
"We realize students today aren't wealthy, but when enough people give a little, it helps a lot of students,"
Harold said. "We had some extra money so we thought, the Lord's been good to us-where better to spend our money than in education."
As teachers, Harold and Janice are givers-of their time, talent and resources. Establishing an endowed scholarship was only the beginning. They also chose to establish a bequest in which Baylor holds the funds permanently and distributes only the earnings.
The Havard's bequest keeps giving-ensuring the future growth of their endowment and its ability to empower young teachers-to-be.
"I would love for excellent teachers to graduate and fill classrooms," Janice mused.
Having both served as principals, Janice in Plano and Harold in Richardson, the Havards deeply understand the importance of quality in the classroom. Through establishing an endowed scholarship and a
gift of retirement assets
, they impart a lifelong contribution to the lives of students and enable others to develop their true potential at Baylor.