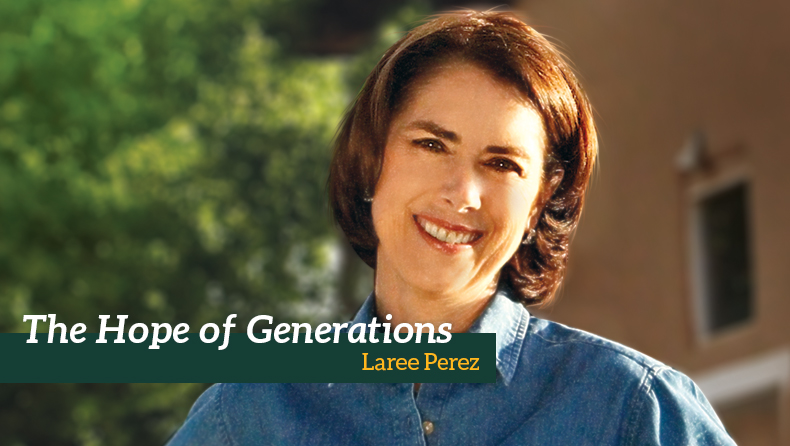 Fall 2013 - When Laree Perez (BBA '76) hears her cousin's son, Giuliano Masci, rave about his experience as a Baylor freshman, fond memories of her own days on the Baylor campus come rushing back to her mind.

As the 18-year-old student excitedly shares his hopes of discovering his life's purpose, Laree is reminded of the simple dinner conversation that sparked her own Baylor journey -- and the great purpose that has followed.

Laree's maternal grandmother, Lois Myrle Roberts Estes, was a proud Baylor graduate who often spoke of her time at Baylor during meals with her granddaughter. She also was a beautiful woman of intelligence and faith who remained steadfast in the face of adversity.

"At only 34, with two little girls and a husband, my grandmother had one of her legs amputated, and she spent the rest of her life on crutches. But it never changed her," Laree recalled. "She never lost sight of what Baylor instilled in her at a young age -- her faith in God and her faith in herself."
A promise
With that remarkable example to follow, Laree joined the Baylor family in pursuit of an education rooted deeply in faith. Finding new mentors among the faculty and administrators of the Hankamer School of Business, Laree developed relationships and skills that set the course for a successful career.

"Walking through the halls of Hankamer as a student, and even after I started my life as an adult, I always wanted to give back to the university that gave so much to me," Laree said. "I had promised myself that if I ever had the ability, I would honor that desire."

With each significant milestone, from her appointment by New Mexico's governor in 1976 as the first woman to serve on the New Mexico State Investment Council to her service on the boards of hospitals, banks, organizations and universities -- including nine years of service on the Baylor Board of Regents -- Laree's passion to share the distinct privilege of a Baylor education has grown.
Creating a Baylor legacy
Laree decided to begin a legacy of hope for future generations of Baylor students by establishing a bequest in her estate plans. Laree's generous planned gift will provide lasting support for three of her Baylor passions: business, law and the equestrian sports program.

"Without business, we don't have the money to do the things we love, which for me is horses and animals. But I also know that all of us, at one time or another, must have good attorneys," Laree said with a laugh.

"Thinking about my grandmother who never gave up hope and set such an example for me," she continued, "I hope the women on the equestrian team and the students at the business school and law school will have hope for life because of how I've touched those programs in a small way."

Laree's generosity truly is inspiring hope, and as she watches Giuliano's Baylor experience unfold she will know she has played an important role in the lives of future students.