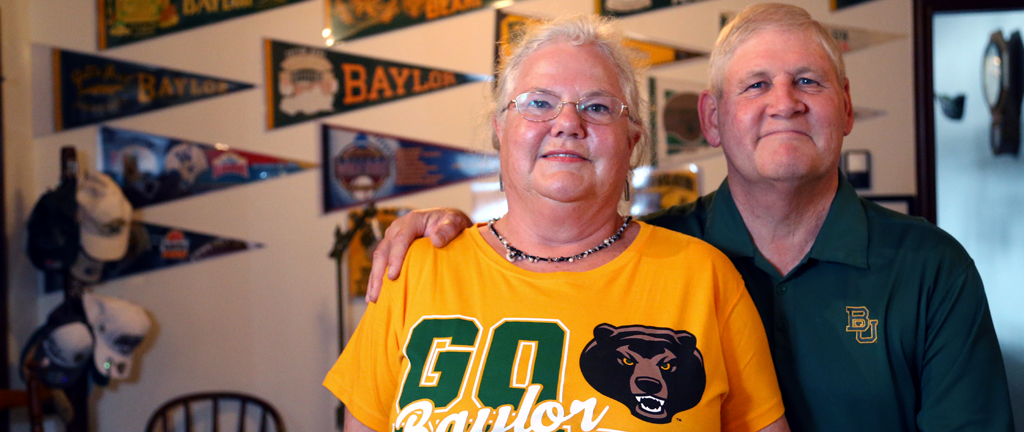 Fall 2014 - The house looks exactly like a train station with its eye-catching cupola and spires and a sloped, copper-tinted roof. However, a large Baylor flag out front and a surrounding privacy fence serve as clues that this is a residence, not a museum. And when you talk with David and Paula, it's clear that they pursue their interests with great energy and commitment.

In fact, their love for Baylor University has led them to leave a legacy that will last long after they can no longer travel "with the Bears," as they put it.
A deep love
"What I always say about loving Baylor is that it's either in your blood or it's not. That's how it is with Paula and me — if you cut us, we'd bleed green and gold," David Hudgins said.

"We just love Baylor," Paula added, "and you take the time to really be involved in the things you love."

Neither David nor Paula attended Baylor. However, both of them have Baylor roots that run back to childhood. David's parents, Royce Hudgins of Gilmer and Mary Ann Puckett of Waco, were Baylor students. Royce left Baylor in 1941 to join the Army Air Corps and serve in World War II, and he and Mary were married in 1942. In the 1950s, Saturday pilgrimages to watch football games at old Baylor Stadium were staples of David's childhood.

Paula grew up visiting family at Baylor. Her grand-uncle Milton Durham was a friend and fishing buddy of former president Abner McCall. She said she fondly remembers going to the Bear Pit and throwing Fudgsicles to the bear.

The 1974 "Miracle on the Brazos" game against Texas was the first football game they attended while dating. When they married in 1975, the wedding colors were green and gold. Their last game at Floyd Casey Stadium was Baylor's victory over Texas to win the Big 12 championship, with 39 years of season tickets between the two milestones.

For four decades, David, the retired fire chief of Waxahachie, and Paula, a nurse practitioner, have enjoyed following Baylor athletics around the country. Family vacations often were to football games in Boston, North Carolina, New York and other sites. More recently, they have followed the Lady Bears across the nation.

When at home, David is lovingly restoring the vintage train car and gathering items for the "Man Cave." Inside their house is a shrine to Baylor athletics. As season ticket holders for football and women's basketball, and regular attendees for nearly every other sport, David and Paula have amassed an impressive collection of Baylor memorabilia, including game programs and tickets from every Baylor bowl game dating back to the 1948 Dixie Bowl. There is also an array of mementoes from their beloved Baylor Lady Bears basketball team.
A source of inspiration
David and Paula said their love for Baylor isn't defined so much by what they've received as by what they plan to give. They saved throughout their married life, with a part of each paycheck always going into savings. After 40 years, the savings and investments have added up.

"We wanted to find a way to give back and say thank you," David said. "We love the Lady Bears. What Kim Mulkey has done, people said couldn't be done at Baylor. So we wanted to make a statement to thank Kim for what she has accomplished. We used our savings to purchase annuities. So for us, it made sense to set an annuity aside for Baylor."

Their annuity will go to support the Women's Basketball Excellence Fund, a gift that will aid the Lady Bears in their ongoing quest to maintain the standard of excellence that Coach Mulkey expects. By making Baylor the beneficiary of the annuity, David and Paula will be able to leave a far larger legacy than they could have done through other means.

"It's a great feeling to make a gift that will just keep on giving," David said. "The Lady Bears have brought us such joy. And for us, to be able to pursue the things we love and to give back — it's a dream we never thought we could accomplish. We are thankful that Coach Mulkey inspired Baylor, because she really inspired us to do all this as well."