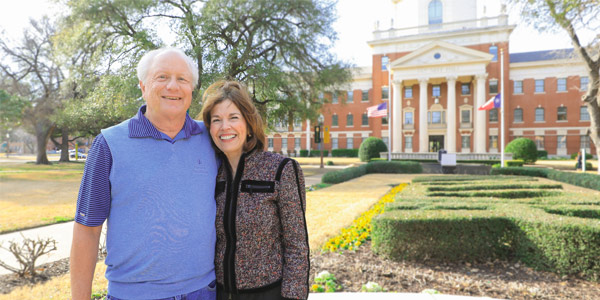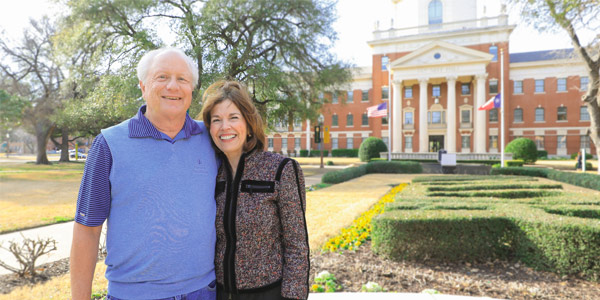 Spring 2018 - For Michael and Gail Attas, making a planned gift to Baylor University was a natural - and powerful - extension of their desire to make a difference in the lives of Baylor students and to advance Baylor's institutional commitment to research and discovery.
"As I was entering my retirement years, I knew that a legacy gift of estate planning made more sense for us financially than a one-time pledge payable soon," said Michael (BA '69). "I could maximize the dollars and make a more generous contribution for future generations of students in a legacy gift."
Choosing what program to support with their planned gift was an easy decision. Michael and Gail followed their hearts in designating their gift to support the William and Argye Hillis Scholars in Biomedical Science Program in the Baylor College of Arts & Sciences.
HONORING A LEADER
The Hillis Scholars program, which welcomed its inaugural group of students in 2015, honors Dr. William Hillis's long tenure at Baylor - during which he served as both a professor and vice president - and his passion for empowering Baylor's undergraduate prehealth students and the University's commitment to research and global service.
"When the William and Argye Hillis Scholars program was announced, I knew I needed to honor his legacy, his mentoring to me personally and his leadership to generations of students at Baylor," Michael said. "His impact cannot be measured. For the 25 years that I knew Bill professionally, socially and academically, I never once saw him act in any way other than as a gracious, loving presence whose ultimate goal was to serve the Baylor he loved and the students he inspired. What a model for all of us to follow our dreams and our vocations as disciples of Christ."
The Hillis Scholars program provides opportunities for intensive research experiences for a select group of Baylor prehealth students - experiences that have become a vital component of medical and educational training and the professional expectations of America's future physicians and biomedical researchers
A LOVE FOR BAYLOR
During his three decades as a cardiologist, Michael treated the hearts of Central Texans, including many of the Baylor professors and administrators who influenced him as a student. In addition to serving more than 20 years as chief cardiologist at Baylor Scott & White Hillcrest Medical Center, he found time to serve as the founding director of Baylor's Medical Humanities program, graduate from seminary and serve as an Episcopal priest.
Retiring from his roles as a cardiologist and professor means Michael spends more time with his wife Gail, who he met at Baylor. They split their time between Waco and Colorado, where he pursues his love for fly fishing.
Michael came to Baylor on an athletic scholarship and was a linebacker on the football team from 1965 to 1967. A self-described "ordinary jock" upon arriving at Baylor, he became inspired by the personal interaction with faculty members, which stimulated and expanded his thinking.
Members of the Baylor Bear Foundation, Michael and Gail also have supported athletic scholarships. Their most recent philanthropic commitment similarly reflects their love of Baylor.
"Bill Hillis's vision of a curriculum that truly fosters Christian faith in healthcare in undergraduate premedical education has been for me a symbol of what makes Baylor unique," Michael said. "It makes me proud that in some small way Bill's legacy of scholarship and service will live on in the lives of future students."