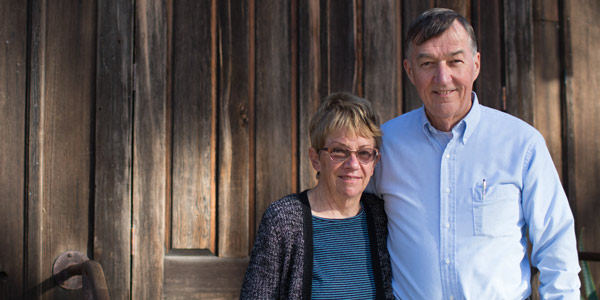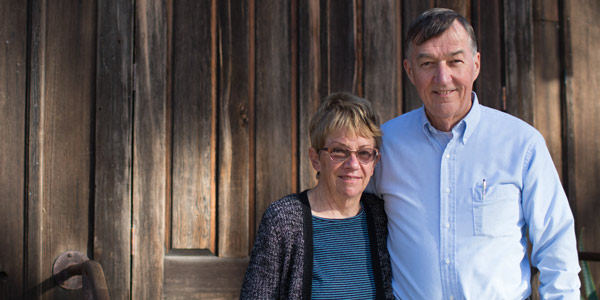 Spring 2018 - As a young girl reading National Geographic, Marilyn Souchek (BA '68) would often ponder a fundamental question - "Who would I have been and what would I have been like if I had been born somewhere else?"
That question continued to intrigue her long after she graduated from Baylor with a double major in sociology and psychology, through 30 years of teaching sociology at Palomar College in California and especially during her travels around the world with her husband, Allen, as they witnessed other cultures up close.
"At Baylor, taking sociology and learning more about different cultures spurred a deep curiosity," Marilyn said. "As I learned about other cultures, I wanted to experience them." Those global experiences didn't come right away. A few years out of graduate school, she found a calling in the classroom. While at Palomar College, she not only taught sociology classes to her own students but eventually also spent time tutoring international students in English, building lasting friendships and, she said, "learning from them as much as they learned from me."
AN EMPOWERING PROGRAM
As a sociologist and professor, Marilyn has spent a lifetime building bridges and finding connections between people. She wasn't anticipating building another bridge when she picked up a Baylor publication a few years back, but an article on the Global Mission Leadership Initiative (GML) in the Diana R. Garland School of Social Work caught her eye.
The GML exists to help students "develop a specific knowledge base in international social work practice." Students, many who come from nations around the globe, earn a Master of Social Work at Baylor for the purpose of gaining insight and experience to return home and address specific problems in their native lands.
When Marilyn learned about the program and its need for student scholarships, a bridge was built between her interest in culture and travel and a program that would enable students to make the world around them a better place.
LEAVING A LEGACY
"When Allen and I traveled, I received an accumulation of impressions," Marilyn said. "There are a lot of places that need good social workers. For us, there wasn't an earth-shaking moment - just a gradual sense of soaking in and witnessing everything around us. When I read about Global Mission Leadership, I saw there was an opportunity to help people."
The Soucheks generously gave to fund the Marilyn McLerran Souchek Endowed Scholarship Fund for International Programs at Baylor. In 2016, Marilyn and Allen extended their legacy through an estate gift to further enhance the scholarship, providing future students with the chance to enhance the ways they serve.
"We liked having a sense of direction, through the estate gift, as to how our money would be spent - especially on something as significant as this program at Baylor," Marilyn said.
That young girl, so taken by the question of what life was like elsewhere, will now help future generations of students shape those very cultures she studied and address the problems they face thanks to the Soucheks' gift.
"The Soucheks have such a commitment and vision for international leaders," Jennifer Dickey, GML director, said. "Their generous gift will allow us to empower students with a social work education. The vision of this program is that we would come alongside leaders who feel a Master of Social Work would empower them in their home country. Their gift will create access for more students to earn their degrees, go back to their communities and continue to be catalysts for change, serving in amazing ways."