IRA ROLLOVER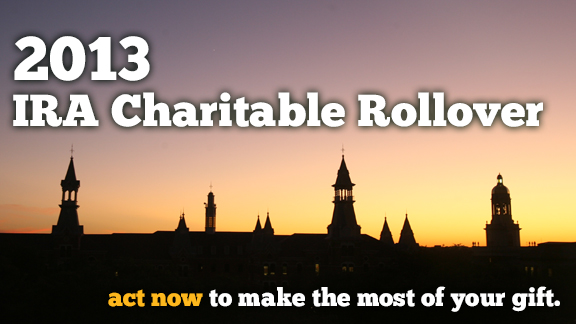 A Window of Opportunity for 2013
With an IRA charitable rollover, you can make a tax-exempt gift to Baylor University. On January 1, 2013, both the Senate and House passed the American Taxpayer Relief Act of 2012 (ATRA).

The bill resolved the "fiscal cliff" and includes a number of provisions that will be favorable for philanthropy and charitable giving, allowing donors age 70 1/2 and over to make charitable gift transfers from an IRA account up to $100,000 to an approved organization, like Baylor University.

You choose the area you want to support. Whether you choose to support The President's Scholarship Initiative or select a particular school, departmental excellence fund or another area of Baylor that is close to your heart, your gift will make a difference. Support Baylor with your IRA gift through the end of this year and benefit from a break on your 2013 taxes.
---
How to make a gift from your IRA:
Step 1:
Contact Baylor University's
Office of Gift Planning
at (254) 710-2561 for assistance in initiating this important transfer.
Step 2:
Send a
written request
to your IRA plan administrator requesting that the distribution be made payable to Baylor University.
Step 3:
Designate your gift. Send a
written letter
to Baylor University's Office of Gift Planning to notify us of your pending distribution and to designate your gift. You may wish to make a designation to scholarships, a particular school, academic discipline or department.
From endowed scholarships to excellence funds, your gifts make a difference. Take this opportunity to support Baylor students.