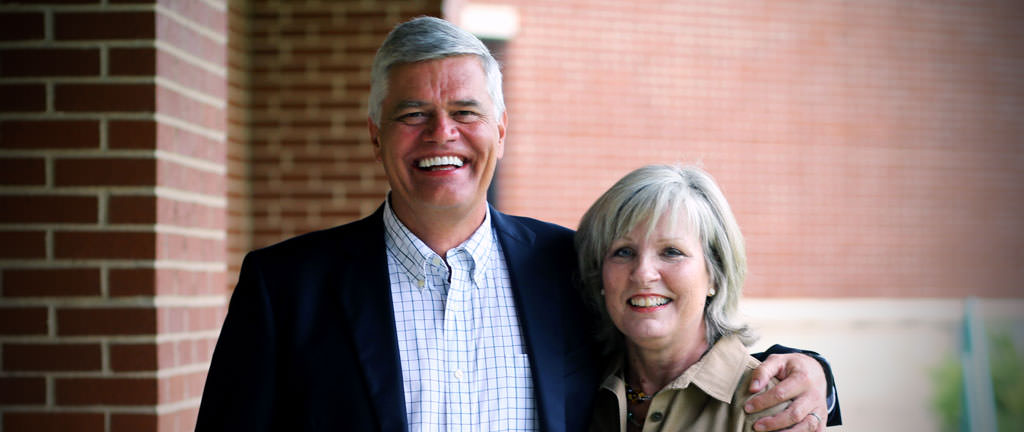 Fall 2015 - Far away from their home in Texas, John (BBA '79) and Nancy (BSEd '79) Jackson found meaningful elements of their Baylor experience thriving in Zambia.
Baylor's mission and the strong bonds of the Baylor community have stayed with the Jacksons long since they met as students on the Baylor campus. While visiting Northrise University, a Baylor partner in Zambia, they connected with Baylor students who shared a common bond that made Africa seem a lot closer to home.
"We had the chance to serve there with Baylor MBA students," Nancy remembers, "and there was such a Baylor connection. When they found out that that John had Dr. Bill Thomas as a professor for his accounting class, they couldn't believe it."
"They were like, 'How could you have had him? You're old!'" John said, laughing at the memory. "But it's great because you have that connection with Baylor, serving abroad or in business at home. There's a starting level of trust in working together because we know where Baylor people are coming from — the Christian background, ethics, a sense of how they handle themselves, doing things the right way."
Serving others
Their trip to Zambia was just one of the many ways the Jacksons have stayed connected to Baylor. It's common to see them at sporting events and concerts, or serving and advising through board service — John serves on the Hankamer Advisory Board, while Nancy spent many years on the Library Advisory Board.
For the Jacksons, the threads of community and mission, which came together so perfectly in Zambia, are big parts of the reason they choose to support Baylor in many ways, and will continue through an estate gift to advance the Baylor Line.
"The idea of Baylor creating opportunities for Baylor students to be missionally minded and globally minded really resonates," John said. "Whether they serve in Waco, or leave Texas and go to Arkansas, or go to Zambia, mission work gives Baylor students a chance to broaden themselves and serve in a way that's applicable to their calling. Baylor transforms students into adults who want to have a Christian emphasis and impact in the world."
The Jacksons have long supported Baylor in numerous ways — through funds in the Hankamer School of Business and athletics, gifts to support mission trips to Northrise University and more. But they also wanted to leave a legacy after they were gone. An estate gift in the form of an IRA worked best for their plans.
"An IRA was a way for us, without any pain, to give something that will be there for Baylor," John said. "As we looked at what we had to work with, an IRA was the most tax-inefficient piece of our estate. But if we give it to Baylor, Baylor gets 100 percent."
It's a gift that will support the Baylor mission — and Baylor students taking their part in missions work — for generations to come.
"To say that we're Baylor alumni is so meaningful because of all that the Baylor community has done around the globe, and all that community has meant to us," John said. "We've seen that Baylor is a good steward of what they are given, and to think of what they can do with our gift is inspiring."