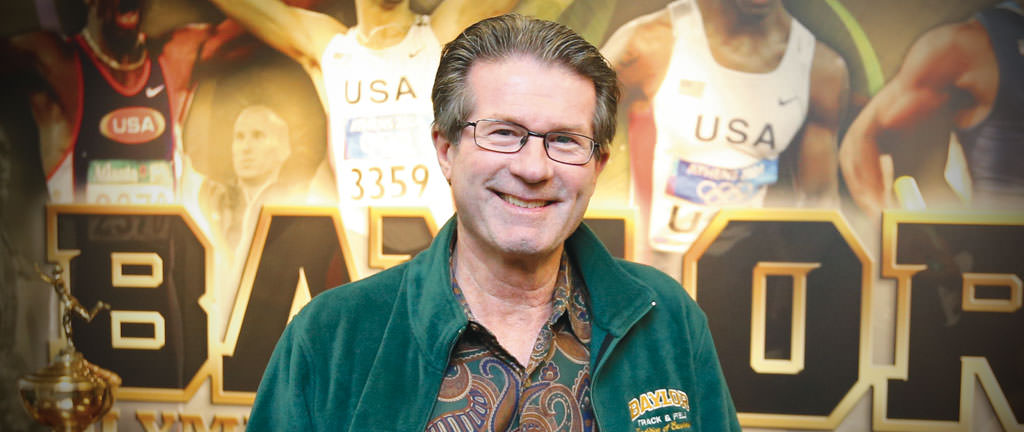 Fall 2015 - When the $18.1 million Clyde Hart Track and Field Stadium was dedicated last December, the facility's namesake perfectly described the new venue for Baylor University's historically successful track and field teams.
"It's a dream come true," said Hart, Baylor's longest-tenured coach, whose athletes have won numerous NCAA and Olympic titles.
The dedication ceremony concluded with Hart running a ceremonial first lap around the new green track with Baylor President Ken Starr and major donors to the project. Included in that group was Winston E. Wolfe (Class of '64), who studied psychology at Baylor, with a minor in business, and competed as a member of the track team.
A longstanding supporter of the Baylor track and field program, Winston made an important gift to the facility during the fundraising process. As a result, the stadium now features a 6,000-square-foot team facility containing the Winston Wolfe Clubhouse.
A remarkable career
Winston began his professional career in the management training program at First National Bank in Memphis, the city where he had grown up. During that time, he received an opportunity to work for a bank customer, a company named Great Southern Corporation, which imported a variety of products from the Orient.
He joined the company in 1968 and worked in the marketing department until 1976, when he decided to launch his own company, Olympic Optical, which concentrated on importing sunglasses from Taiwan and Italy and selling them to distributors nationwide.
Winston continued to grow his business and began designing glasses for many niches, including shooting sports. "The technical side of the business fascinated me because the glasses had to work and to fit, but I was always thinking about how the style could be improved," he said.
"That led me into the design side, which in turn led to another big segment of our business." He eventually secured nine patents for his designs.
By 2005, his company supplied sunglasses, shooting glasses and industrial safety glasses, securing licensing agreements with Smith and Wesson and Remington, as well as hearing protection. That year he sold Olympic Optical and retired. Since then, he has devoted his time and financial resources to numerous organizations in Memphis, where he continues to live, and to Baylor University.
A deep love for Baylor
Over the years, Winston has maintained his strong connection to Baylor. He has served on the Hankamer School of Business Advisory Board and is a member of Baylor's Letterwinners Association, Old Main Society, Endowed Scholarship Society and 1845 Society as a lifetime member. Additionally, his daughter, Stephanie Wolfe Jordan, earned a BHE degree from Baylor in 1989.
Winston has made a generous commitment to Baylor through his estate plans and a Charitable Remainder Unitrust (CRUT) to benefit a number of endowed funds in support of the Baylor track and field program and the Hankamer School of Business, including the Ezra Thomas Little Memorial Endowed Scholarship Fund in Entrepreneurship to honor his uncle.
"Baylor has always meant a great deal to me," Winston said. "I hope that the gifts I've made will help others experience what Baylor has to offer its students."