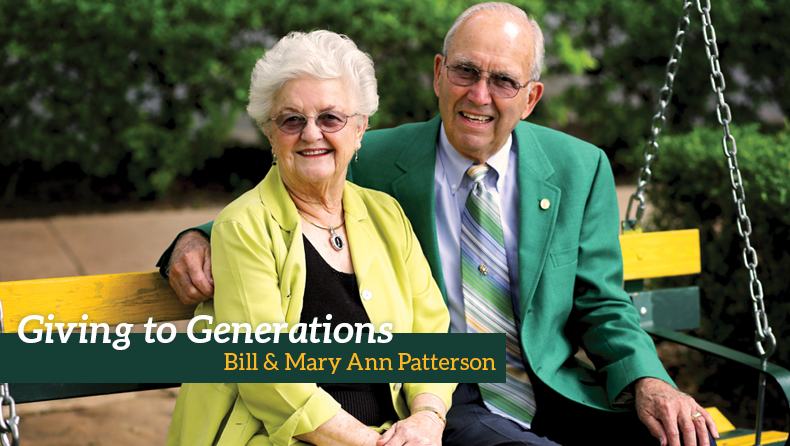 Spring 2013 - W. F. Bill (BBA '55) and Mary Ann (BA '54) Patterson were both Baylor students, but it was a happenstance introduction at a conference in Mexico City that initially brought them together. As they enjoyed conversation over a soda back in Waco, they never could have imagined that through that chance encounter, their lives would be changed and the Baylor Line would extend for generations.

In reality, the Patterson legacy will be carried on through students they may never meet--for generations to come--because they chose to increase the impact of their endowed scholarship by creating a Charitable Gift Annuity (CGA) that met their personal needs while providing for future Baylor Bears.

"Creating an annuity is putting your money where it will live after you," Mary Ann explained. "There are a lot of people who want to go to Baylor, and I would hope they have the help to go."

For the Pattersons, who now live in Gilmer, Texas, Baylor is more than a University--it's a way of life. With a family history dating back to 1920 and boasting of 80 graduates, it's no wonder. Beyond aunts and uncles, parents and siblings, all of Bill and Mary Ann's children have attended Baylor and several of their grandchildren have also, including one in the class of 2016.

"When you love something, you support it and you give to it," Bill added. "We were glad to make a commitment to Baylor and accept it as a good investment. Because of the financial help to attend Baylor, these students are better qualified, and they're appreciative of it."

For years, the Pattersons made annual gifts to Baylor Athletics and student scholarships, but they had never considered the benefits of planned giving until Bill began assisting Mary Ann's aunt, Virginia Marshall (BA '33), after her husband passed away. Aunt Virginia wanted to do something meaningful and lasting, so they helped her to create a CGA that would give her income for life and then fund an endowed scholarship in the area where Virginia was most passionate: Truett Seminary.

After attending scholarship banquets on Virginia's behalf and meeting students who benefited from her scholarship, the Pattersons knew their next step would be to create an annuity that would increase their own endowed scholarship fund.

"For our gift annuity, everyone was so nice. We know they get big dollars, but ours was big in our eyes," Bill said. "And I'm impressed with the growth and return that we've seen. We're blessed because we've been able to give."

Truly, "that good old Baylor Line" will extend for generations because of the Pattersons' generosity. Learn how you can help make the Baylor experience possible for future generations.