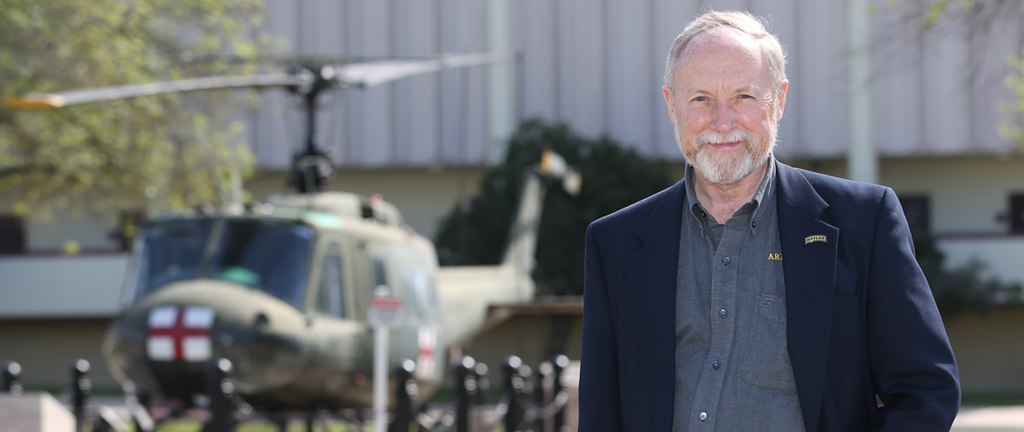 Spring 2015 - For more than four decades now, Dr. David Mangelsdorff has called Army-Baylor home. A Fulbright Scholar, Army-Baylor professor, psychologist, author and Army Reserve veteran, he has dedicated himself to learning -both for himself and his students.

"In Chaucer's Canterbury Tales, the clerk - the Oxford student - had a mission to 'gladly learn and gladly teach,'" he said. That has pushed me along throughout my life."
A CULTURE OF LEARNING
That mission has also influenced his philanthropy, creating a legacy that will continue long after he retires. That's due to his having created the A. David Mangelsdorff Endowed Professorship for the Army-Baylor Graduate Program in Health and Business Administration through a Charitable Remainder Trust (CRT).

The gift will aid Army-Baylor in attracting top full-time professors, leading to future teachers who will prepare skilled and compassionate leaders for service to our active military and veterans and could help continue growth in the program's national stature - reflected in such rankings as U.S. News and World Report, which reached a new high in 2015.

"We tied for number seven in the most recent [U.S News] rankings," he said. "The reason we're moving up in the rankings is the quality of our faculty. This professorship is intended to continue faculty involvement here and with others to come together to learn from each other and support community preparedness."
A STRATEGIC VISION
A graduate of Dartmouth College and other universities, David has made similar gifts at other educational institutions across the country guided by an overarching strategic vision - professors, along with their students, sharing knowledge in international relations, homeland defense, psychology, business, cybersecurity, technology and more.

As he pursues that vision, David continues to serve the students of Army-Baylor, men and women who bring leadership qualities and life backgrounds that come from military service and federal service.

"The values of Baylor University in Waco and Army-Baylor are very much in alignment," he said. "Our students here at Army-Baylor are mature. They've served and continue to serve their country, and they have an appreciation of what leadership is about. I applaud them for the service and dedication. I hope this professorship will ultimately serve our students as they expand their horizons."

Thanks to David's generosity, generations of future leaders will gladly learn and gladly teach as they extend his legacy - and that Good Old Baylor Line - from Fort Sam Houston all around the world.