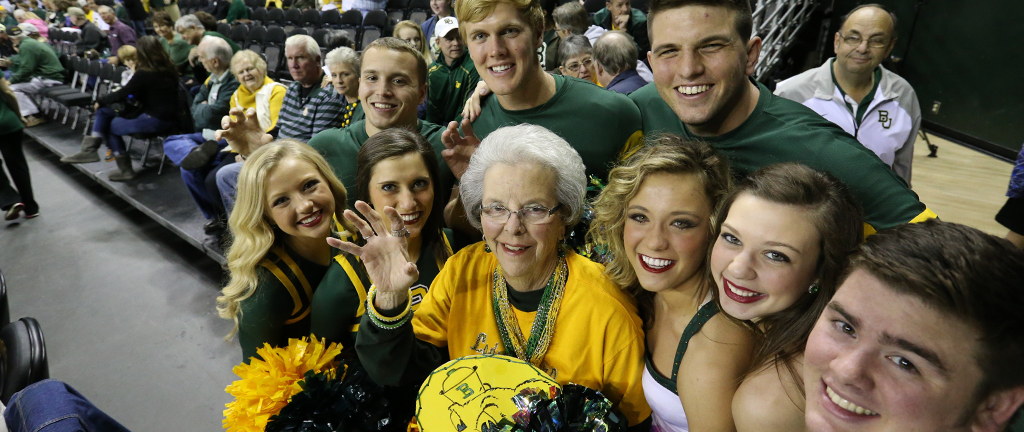 Spring 2015 - A fourth-generation Baylor graduate, Sarah Lou (BBA '57) and her family are the epitome of the term. Her family has been a fixture in Waco for generations, including through Baylor and the First Baptist Church of Waco. Her family tree, including marriage-based branches, features such Baylor legends as Dr. George W. Truett, the Keys quadruplets and the Speight and the Jenkins families.

"It's a wonderful heritage to have," Sarah Lou said. "I'm most thankful for my family and all the things they gave me in terms of appreciation for Baylor and what it stands for."
MANY CONNECTIONS
Based on that appreciation, Sarah Lou said her recent decision to take advantage of the benefits of giving to Baylor through a Charitable Gift Annuity (CGA) was an easy one. "I knew I wanted to do something," she said. "I thought this is a wonderful way."

Sarah Lou and her late husband, Earl (BBA '56, JD '58), are charter members of the Old Main Society and have long been loyal Baylor supporters, benefiting the athletic department, the law and business schools and the Baylor/Waco Foundation. She has been involved with the Waco Cotton Palace, the Waco Junior League and various other civic organizations. Sarah Lou also has served as an advisor for Kappa Alpha Theta sorority, of which she was a member.

Last year, Sarah Lou served on the board of the Baylor Bear Foundation and was named Rookie of the Year for raising the most funds of any first-year member. A season-ticket holder for football and men's and women's basketball, Sarah Lou also regularly attends Baylor baseball games.

"Baylor has meant everything to me," Sarah Lou said.
A GROWING FAMILY
In 1984, the Speight/Jenkins/Graves/Shepperd families were honored with the First Families of Baylor Award, which recognizes a multi-generational Baylor family that has shown long-lasting concern and support for the University and its community.

"We had 61 family members listed on that award," Sarah Lou said. "That was in 1984, and we've had a bunch more come through Baylor since then."

All of Sarah Lou's daughters - Betsy Bracken (BBA '81, MBA '85), Suzanne Bracken Cox (BA '87) and Sarah Lynn Gamble (BBA '88) - graduated from Baylor and also were Kappa Alpha Thetas.

Indeed, Sarah Lou's Baylor family tree continues to grow. Her Charitable Gift Annuity ensures those branches will produce fruit beyond her family, reaching the broader Baylor family for many years to come.