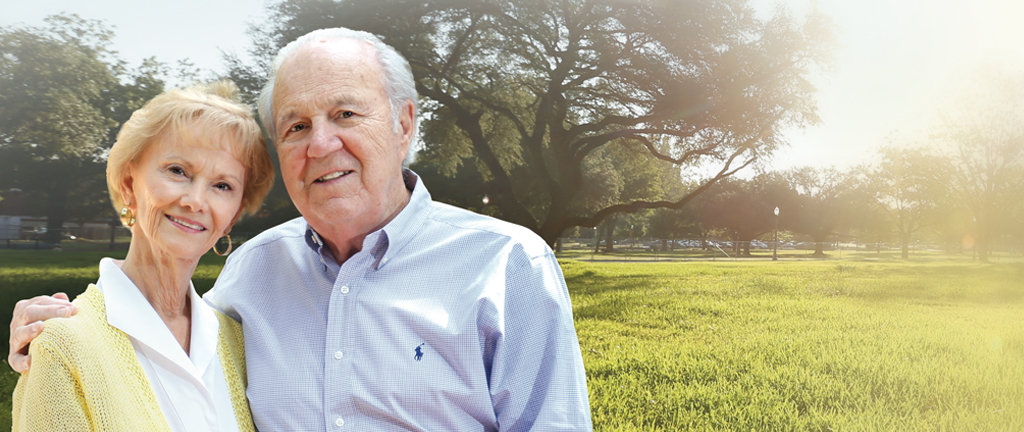 Fall 2014 - "We had a business school, but it didn't have its own building," Jack recalled. "We met on the top floor of the Student Union Building sometimes. It was still a good school with good professors who turned out students ready to take the CPA."

Jack said that when he started college, it was still possible to earn enough by working summers and during school to pay for an education. "You could make it through school without owing a fortune. That's not possible today," he said, noting that he and Jan, his new bride at the time, both worked to pay his way through college.

All the hard worked paid off when he earned a BBA in 1955.
A meaningful tribute
Today, Jack remains active at the helm of his oil and gas company, J.R. Energy. In memory of his and Jan's two children, the couple made a gift to create the Jack W. Redding Jr. and Juli A. Redding Memorial Scholarship Fund, established in 2009 in the Hankamer School of Business.

"We thought it would be a good way to remember them," Jack said. The continued growth of the University and its business school in both stature and scale, which is a source of inspiration and pride for Jack and Jan, has been a confirmation of the impact that the couple's heartfelt investment has made.

"I'm proud of what Baylor has done," Jack said of the Hankamer School of Business and its state-of-the-art Paul L. Foster Campus for Business and Innovation, currently under construction. "Today's students don't know how good they have it. I hope they really appreciate what they've got, and I believe they can do an even better job than we did in the old days."
Future generations
With a generosity born of grateful hearts and faith in the future, the couple recently made a bequest to the University. Their estate will provide scholarships and discretionary funding for the business school and athletic scholarships, Baylor athletics being another of Jack's passions.

"The lion's share will go to the business school because it's what enabled me to accomplish the things I've done professionally," Jack said. Beyond being a gesture of gratitude, Jack said he hopes the gift underscores the value of a Baylor education and encourages future generations to take the University to even greater heights.

"They have so many choices," Jack said of prospective students. "I just want Baylor to continue attracting quality students and make it possible for those who need financial assistance, which was the case for me, to get a Baylor education."