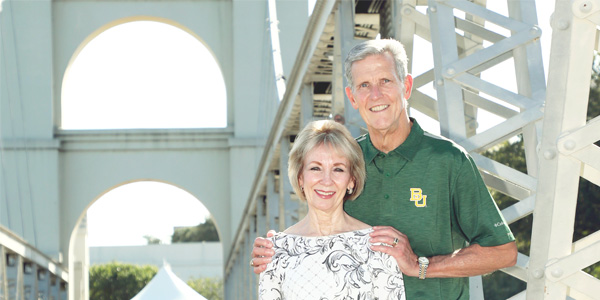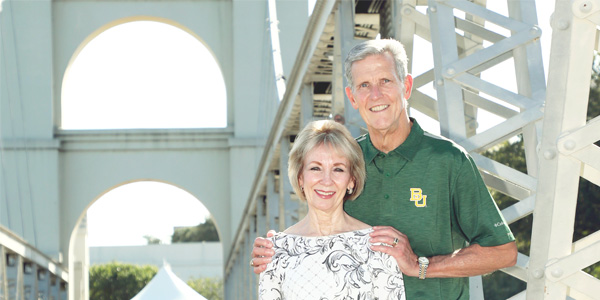 Fall 2018 - Joel and Diane Allison exemplify the Baylor spirit. Prior to graduating with a BA in journalism and religion in 1970, Joel was a member of Alpha Phi Omega (now Sigma Alpha Epsilon) and lettered for the 1969 Baylor football team. Diane also was a 1970 Baylor graduate, earning a bachelor's degree in elementary education, and was a member of Alpha Omega (now Pi Beta Phi).
"Diane and I both feel blessed to have had a Baylor education," Joel said. "In addition to preparing us for the 'real world,' we made lifelong friends while at Baylor and created a strong network of Baylor alums who have been so helpful over the years."
After serving more than 45 years in the healthcare field, Joel retired as president and chief executive officer of Baylor Scott & White Health in February 2017. For more than two decades, he worked to grow the system from a few hospitals, outpatient surgery centers and other entities in the DFW metroplex to 48 hospitals and more than 1,000 patient access points across North and Central Texas.
During their time in Dallas, Joel and Diane kept their ties to Baylor strong, serving as co-chairs for the Louise Herrington School of Nursing's inaugural Going for the Gold Gala in 2012 and creating an endowed scholarship for football student-athletes. In addition, in 2015 they established the Joel T. and Diane Bailey Allison Endowed Scholarship Fund in Healthcare Administration, which assists students enrolled in the Hankamer School of Business.
"We wanted to create this scholarship so other deserving students will have the opportunity to attend Baylor's healthcare administration program, which I believe is one of the best in the country," Joel said. "It was during my senior year at Baylor when I felt God's call into the healing ministry of healthcare administration. I was blessed to attend Baylor on an endowed scholarship myself, without which I would not have been able to afford to attend such a wonderful, Christian university like Baylor."
Giving Back
Following Joel's retirement, the couple moved to a condo in downtown Waco to accommodate visiting family - which includes a daughter, two sons and six grandchildren - while being closer to their alma mater.
Now settled in their new home, the Allisons are focusing on giving back to their alma mater even more. Since June 2017, Joel has served as chairman of Baylor's Board of Regents, providing leadership to the University's governance, and Diane is a member of the Baylor Alumni Network Women's Advisory Committee.
Forward Looking
Joel and Diane said their desire to give back to Baylor is based on what Baylor has meant to them over the years.
They recently made a bequest commitment through their estate plans and Individual Retirement Accounts (IRAs) to benefit Baylor University.
Like other alumni and friends of Baylor, the Allisons decided to blend their lifetime giving to Baylor with a planned gift through their estate in order to maximize the impact of their philanthropy.
"We believe planned giving is a great way to continue giving back to Baylor even after we have both passed on," Joel said. "As we were working through our estate plans, we realized that making a deferred gift, such as an IRA, is useful for providing funding for future students."